Product: Erazor Bits Brown Savanna 100% Cotton Wicked Fish Muski Graphic T-Shirt (XXXL)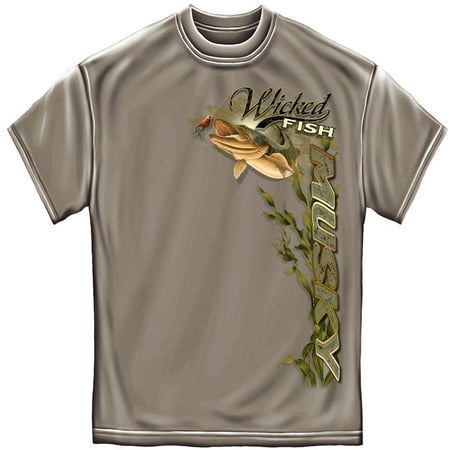 Sizes:  S-XXXL(size shown is XXXL)
Seller: Wal-Mart.com USA, LLC
Price: $23.95
Erazor Bits is a company that offers many different T-shirt designs. According to their website they have been around for a little while getting their start in 1998. They have a vast amount of expertise in Firefighting, Military, EMS, and novelty T-shirts like the fishing tee pictured above. Their website appears to be a wholesale site meaning they just sell in bulk to major online and physical stores. Wal-Mart sells these shirts to you instead of the website.
If you like shirts with a southern flavor in them, then you will like what this brand offers. You can go onto name brand chains and type in "Erazor Bits" and find a slew of different shirts to choose from. I really find their fishing T-shirts to be humorous and they would go fine with you to the lake on a fair weather day.
The Love Of The Simple Fishing T-shirt
Many fishing T-shirts such as technical shirts have the advantages of a few extra pockets here or nice button-ups there. The stand-out feature of this brand is the feature of simplicity. It is just a regular tee with a neat silky graphic of, in this case, a big wicked fish about to take a big ole bite of your line.  I like the neutral color of this fabric and the fish design is really well done. The way the artist used dark greens and browns on the paint design makes you feel like you just plucked it out of the stream.
It captures that fishing vibe it is going for by having the plant vegetation, the nicely crafted fish graphic, the swampy green and brown colors, and the bait bobbing in the water.
About The Fish In The Graphic
The fish featured on this shirt here is called a muskellunge, or often just referred to as musky. You can refer to the Wikipedia link here to learn more about it and why this fish is awesome. They are fierce, carnivorous predators that count only humans as their main threat. I believe it will make you appreciate this shirt more if you know more about the fish shown on it.  You might want to know this just in case someone asks you about your new Wicked Fish shirt too.
 Is The Material Comfortable?
These T-shirts are made of 100% cotton. Everybody knows how soft that cotton feels as everyone owns at least one 100% cotton shirt. Comfort is what cotton is. The definition of cotton is a soft, white material that grows on the seeds of a tall plant and that is used to make cloth. Anything that has the word "soft" in it's definition corresponds with comfort wouldn't you agree?
Yes, the material on this shirt will be plenty comfortable for the lake or for going to town. Another good point is you can wear these types of shirts anywhere which you might not want to do with the technical shirts. You might look a little "out there" if you go anywhere but to the fishing hole with the fishing technical shirt. In my opinion you look a lot more in tune with your surroundings wearing a regular fishing T-shirt like the one above. I wear them all of the time though so I might be a little biased 🙂
My Opinion On Whether To Buy Or Not
You should consider whether this shirt is right for your tastes. Some people prefer these types of shirts and others like the more tech-y gadget-y shirt. Keep in mind this shirt has no pockets ;That being said I haven't understood why you need those pockets anyway.
I think a regular T-shirt is better without the extra bells and whistles. You can't carry any fishing items in those pockets such as extra baits or lures.  To me they are nothing but extra decoration anyway. If you prefer the simplicity of just throwing on  regular cotton T-shirt over having a button up with those unusable pockets you'll favor wearing this shirt.
At $23.95 you aren't exactly breaking the bank either. Their shirts have very patriotic messages in them. I like that they have police, firefighter, and military themed shirts to lend their support which is another reason I like them. I think I can comfortably recommend the Erazor brand shirt and know I am endorsing a quality brand.
Buy Here!
Erazor Bits Brown Savanna 100% Cotton Wicked Fish Muski Graphic T-Shirt (XXXL)
Final Cast-Off
So in my personal opinion this T-shirt is a fantastic choice for you. There are many good quality shirts out there and this one is no exception. It is made in America in New Jersey which is important in the American-made product movement that is currently going on. The design actually puts you in the mood to get outdoors and cast off. This tee shirt is a breath of fresh air whether you a deep sea fishing professional angler or just fishing in your own family pond.